A tribute to Anne Johnson by Maja Feldman
As a young Program Officer working in the Partners for Development (PfD) headquarters, I still remember the first time I met Anne Johnson, PfD's Nigeria Country Program Director at the time. Although she barely knew me, Anne had such warmth about her she instantly made me feel like we were old friends. Anne had the rare ability to make others feel comfortable in their own skin. Her overflowing positive energy was infectious. Anne was able to bring out the best in you.
Anne was passionate about many subjects, including girls' education in Nigeria; hence PfD's efforts to honor her memory through the Anne Johnson Memorial Scholarship Fund. Numerous studies have demonstrated the relationship in developing nations between education and social and economic well-being: females with a secondary education have lower fertility levels which in turn translates to better physical and economic health for them and their families. "Educating girls can transform whole communities" (Earth Policy Institute, 2011).
To PfD Anne was a gifted Country Program Director, Director of Programs, consultant and driving force behind much of PfD's amazing work. She had an unrivaled passion for the work PfD did and believed in each and every one of our programs. To me, Anne was a mentor, a friend, and an inspiration. Anne epitomizes the passion that drives PfD's mission. Although Anne's work with PfD was cut short by illness, her legacy lives on in the people she touched—from the hundreds of field staff, partners and PfD employees to the thousands of women, men and now young girls she helps achieve.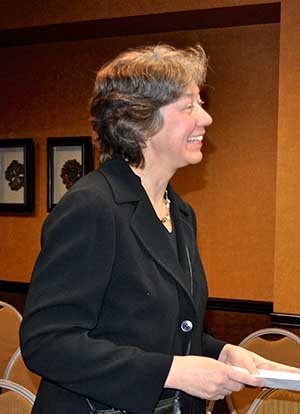 I still remember how confident she was that my background in journalism was just what her staff needed. Anne gave me my first chance to prove myself. She never stopped pushing me—or PfD. As frustrating and difficult as things got, Anne always had a positive spin on everything. Every conversation began and ended with laughter. Anne was one of the most genuine and loving people I have ever come across. In developing my management style, I aimed to emulate Anne's effortless ability to take things in stride, find the humor in just about everything and believe in people. She was truly a remarkable person and PfD was lucky enough to have a 20-year relationship with Anne.  Anne truly was PfD and because of Anne, I am proud to say that #IamPfD too.
**Anne Johnson died on Christmas Eve 2013 after a lengthy battle with cancer. Anne's commitment to PfD continues today in the form of her scholarship fund for young girls in Nigeria. Her full biography and obituary are available on the PfD website.**
Yoga Burn is a yoga based workout program that is specifically tailored to help women lose weight and shape up. Yoga Burn Reviewsis a complete 12 week program designed to help you tone and firm your body while losing weight and improving flexibility. Zoe Bray-Cotton is the creator behind
---
Throughout all of December we will be sharing stories from our staff, board, partners, and others from around the globe. We can't wait to share all of the hopeful, engaging, and positive stories from our work. We will be using the hashtag #IamPfD on Facebook, Twitter and LinkedIn.


Be sure to share the posts that you find engaging and inspiring with friends and family and don't forget to donate and take an #unselfie of you making a donation and share it with us and use the #IamPfD for a chance to win prizes from PfD.