GREEN Lessons Go Beyond Vegetable Farming
Meet Mr. Cyprien Hindeme, a vegetable farmer in the Allada region of the Atlantique Department in Southern Benin, who used the knowledge and skills he learned through the GREEN project to improve his pineapple production and sales.
The GREEN project (GREEN blog post) trainings taught Cyprien modern cultivation techniques and important farming skills, such as the proper use of chemical fertilizers and pesticides. Through the practical marketing workshops, he learned how to become market orientated in his production, and he continues to use the weekly vegetable prices he receives through SMS messages on his cellphone to negotiate sales of his vegetables even before they reach the local markets. This way, not only does he ensure he gets the best prices for his produce, but he also cuts down transportation costs and reduces post-harvest losses.
But vegetables are only part of Cyprien's income, as he also has a pineapple grove. After witnessing the success of the GREEN project techniques with his cabbage, Cyprien decided to use this knowledge and skills to improve his sugar loaf pineapple production.
By modifying his use of fertilizers and insecticide to comply with GREEN recommendations, he grew larger, juicier pineapples. He also used his marketing skills to research the local and regional pineapple markets and diversify his clients. Now Cyprien delivers his higher quality pineapples to wholesalers in Togo and Burkina Faso, while still servicing buyers in his local market. He also now supplies his top quality fruit to three prominent hotels in the Atlantique Department.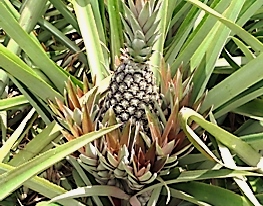 With additional income, Cyprien was able to send one of his children to Benin's agricultural technical college, ensuring his future and the continued success of his family's farm. He was also able to buy laptop computers for both of his children attending university, who have now developed marketable computer skills. Cyprien attributes his success to the GREEN project trainings, and says, "now that GREEN helped me with my cabbages and pineapples, now I am ready to try other crops too."