Impacts of Boko Haram on PfD Programs in Nigeria (and what you can do about it)
This week marked the one year anniversary of the abduction of the 276 Chibok girls by extremist group "Boko Haram" in Nigeria. This unfortunate anniversary comes with a gift of optimism as around 300 young girls and 150 women were recently found in the Sambisa Forest this past week by Nigerian forces (AP). The Nigerian military has not determined if any of the rescued women and girls were abducted from Chibok or from other areas. The rescue represents hope for the Chibok girls to be returned home (AP).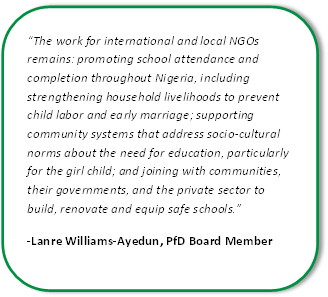 In addition to the devastating abduction of the Chibok girls, the communities in Nigeria have faced numerous other challenges, including a decreased ability for international organizations to operate and implement programming.  PfD has, for example, experienced delays in implementing activities in some locations close to Boko Haram strongholds and was forced to relocate beneficiaries to safer locations for trainings. On several occasions, alternative and longer travel routes were used to in order avoid attacks.  In addition, losses were recorded in PfD's microfinance program activities due to significant relocation and attrition of borrowers and difficulty in recruiting quality staff in the northern areas.
Despite these challenges, employing local staff with a deep understanding of the political, cultural, and security situation has allowed PfD to continue to implement its health program in northern Bauchi State of Nigeria.
Aside from the loss of numerous human lives, destruction of infrastructures and the general deterioration of the economy in the northern region, the education sector has suffered immensely. According to UNICEF, 800,000 children have been displaced throughout Nigeria due to "Boko Haram" violence. The sheer number of displacements combined with a high level of fear of attending school in those areas poses a major threat to the future of the education sector in the northeastern part of the country.

In Nigeria, "about 10.1 million children who are supposed to be in basic education were not in school. In other words, almost one out of every three primary age children is out of school, and roughly one out of four junior secondary age children is out of school" (UNESCO 2012).
In a country where school turnout was a serious issue well before the insurgence of "Boko Haram", the latter has "further compounded the problem of school attendance by destroying school infrastructure and displacing people fleeing violence" according to Lanre Williams-Ayedun, PfD Board Member.
So what are we doing about it?
Educating girls yields a positive impact on economic development and the health of the family overall. PFD continues to advocate for girls' education in Nigeria through its Anne Johnson Memorial Scholarship Fund (AJMSF) created in honor of the late Anne Johnson, a former Nigeria Program Director who was critically engaged and passionate about girls' education. In partnership with two local organizations, Gerewa and Lift Above Poverty Organization (LAPO), PfD provides scholarships and opportunities for disadvantaged girls.
Solution and opportunities – What needs be done?
Besides strictly following PfD's security guidelines, PfD staff members are also in constant communication with members of communities in which it operates to provide intelligence on security situation before any travels around locations infested with insurgents. Communities that surround "Boko Haram" strongholds need to relate useful information to authorities to help facilitate the search and rescue process. If and when the girls are found, steps also need to be taken by the government to provide counseling services to the kidnapped girls and facilitate their reinsertion into their community and society.
What can you do?