International Development and Small Business: Better Together
Working with and through small businesses1 is both effective and in line the Partners for Development's (PfD) mission of working in partnership with local and international groups to improve quality of life for vulnerable people in underserved communities.  Over the years, PfD has found that working with small businesses is an incredibly cost effective way to implement, monitor and manage programs that energizes the local economy. By creating small business partnerships and employing local staff and partners, PfD helps empower communities and facilitate inclusion. The use of local small businesses promotes the idea that local challenges should be solved through local solutions.
PfD has demonstrated commitment to these ideals since our founding by working with small businesses both in the US and in countries where we implement programs.
Local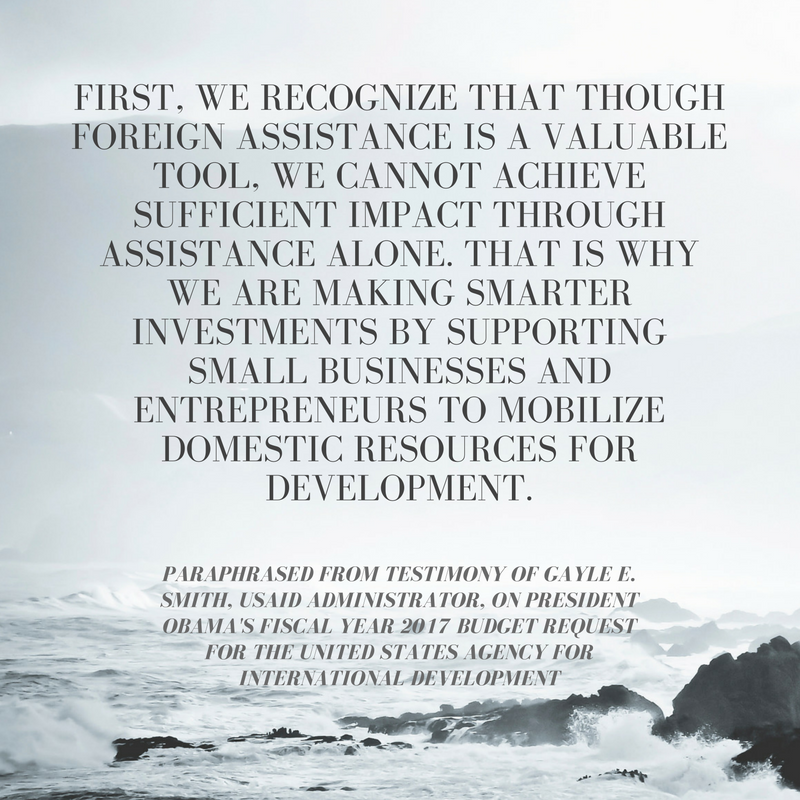 small businesses are the backbone of the economy; they contribute substantially to GDP growth and create job opportunities, which is particularly important for developing countries. Working with and contracting small businesses helps them develop and ultimately contribute to overall economic growth of a country. Over the years, development goals have shifted towards local ownership; rather than simply solving the issue at hand, development organizations aim to capacitate local communities to maintain solutions once a project is over, which enables them to solve local problems without international aid in the future. The use of small business represents one simple way to involve the local community and facilitate ownership and sustainability.
PfD promotes the use of small businesses both in the US and abroad by working with them to support certain project components or fulfill basic needs that could otherwise have been filled by large businesses. PfD's use of small businesses in the place of larger or international ones promotes income generation and increases employment opportunities for those who need it. PfD strives to promote sustainable solutions through local partnerships; PfD works alongside local communities to fulfill their needs, using a bottom-up approach to empower people in underserved communities. The use of small business to support program functions reflects this value of local solutions; by utilizing available, local resources and businesses, PfD honors their mission in every way possible.
Local Solutions. Sustainable Outcomes.
The international development community as a whole has recently adopted similar ideals as it pertains to international development program contracting. Many donor agencies are awarding more contracts and funding to small businesses; certain organizations have even adopted reform policies that set aside a certain number of contracts or a certain amount of funds for small businesses in particular. There has been a recent push in the field of international development, led in part by the Small Business Association of International Companies (SBAIC), to include more small businesses in development work across the globe.
Small business accounts for almost 50% of employment in developing countries (UK Department for International Development, 2015). This means that their growth is imperative in order to increase employment rates and further economic development. PfD recognizes the importance of the role of small businesses in development. For example, in Nigeria, PfD contracts different small businesses to support program monitoring in the communities. Similarly, PfD utilizes small business as often as possible to support headquarter office functions; small businesses are hired for services such as web design, accounting and IT, as well as internet and telephone wiring. PfD is consistent in their use of small businesses in every region to support sustainable economic growth through the use of small business in as many capacities as possible.
The international development community can and should recognize the essential nature of small businesses both in the US and abroad.  The international development community has made strides in terms of understanding the importance of working with small local businesses but there is still a long way to go in maximizing the potential of small, local businesses.
1Small businesses are generally defined by their size, measured in number of employees or annual receipts. The size standards used to determine whether or not a business qualifies as small vary greatly depending on the industry. There are also different standards or norms depending on the location of a small business. In general, businesses that employ less than 500 people are considered small, but to those working in rural areas in the context of a developing economy, 500 employees may seem incredibly large.