Meet Gerawa Multi-purpose Cooperative Society based in Bauchi State, Nigeria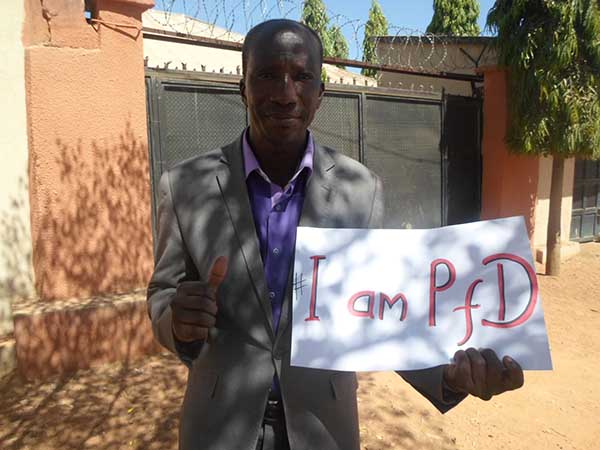 PfD gives the greatest importance to the role of partners in every aspect of our work. We are deeply committed to involving local counterparts in assessing needs, designing programs, implementing activities and learning from the communities we jointly serve. PfD's partner-oriented approach directs us to work with and harness the resources of the international community to meet the needs of vulnerable populations. Therefore, during our December campaign we wanted to feature one of our partners. Below is a Q&A with Pastor Ayuba Musa from Gerawa Women Multi-purpose Cooperative Society from Bauchi state, Nigeria.
Q: How did you first learn about PfD?
A: Gerawa Women Multi-purpose Cooperative Society is a community based rural micro-finance organization, base in Bauchi, Bauchi State of Nigeria. The organization got to know about Partners for Development in 2004. Prior to this time, Gerawa has been engaging in micro-credit program in the State at an elementary or infant stage. The institutional capacity of the organization to operate effectively and efficiently and the knowledge on micro-credit standard best practice was low. The capacity of the organization to access loan to finance its clients was low, with low portfolio strength of USD $15,000, out of which 80% of the loans were in arrears. It was at this stage that the organization team up with PfD.
Q: What led you to work with PfD?
A: Gerawa was so fascinated with PfD's programs in Bauchi state which cut across (a) rural infrastructure development (b) small enterprise development i.e. micro-credit (c) health i.e. Reproductive health (d) and institutional capacity development/building. Taking the capacity challenge of the organization into consideration, Gerawa requested support with the micro-credit program in order to meet the need of our clients and reduce poverty level among the rural and vulnerable household women in the State.
Q: Tell us about the growth of your organization?
A: After over 10 years of good partnership with PfD, Gerawa has grown from lending USD $12,000 to $112,000 per year. Apart from micro-financing, the organization has equally benefited from the following PfD project activities:
Reproductive health training and support
Integrated health and microfinance programming
Expanded access to services for agricultural enterprise
Business development skill training
Nigeria Agricultural Enterprise Curriculum (NAEC) training and support
All these projects targeted rural women to improve their skills, increase sales and improved income. The uniqueness of implementing PfD project in the communities is integration approach to project delivery, which allows beneficiaries to access and enjoy more than one intervention at a time – holistic development.
Q: How has this partnership impacted your work?
A: The impact of the project implemented with PfD over years resulted in:
Improved Micro-finance: To date, we have issued over 3,200 microcredit loans mainly to women – 95% of borrowers are women.
Institutional capacity development of the organization: At the start of the project with PfD, an operational grant of over a million naira was received from PfD to complement staff salary and other administrative overheads. Likewise, trainings, seminars and workshops were organized by PfD to build the capacity of the implementing staff of the organization in project delivery and methodology so that we could sustain the work after the completion of the grant.
Supporting women farmers: We were able to strengthen the capacity of more than 2,000 small agricultural business holders, who were mainly women, to effectively plan, save, record, forecast, and negotiate properly for their products.
Successful program integration of health and microfinance: A total of 48 communities were reached and 2,747 women borrowers received health training and information, 11,420 immunization were given, 980 women of reproductive age received family planning commodities, 3,620 attended anti-natal care and 122 received various counseling on RH related issues.
Q: Any closing thoughts?
A: In conclusion, PfD has done great things in transforming the lives of ordinary people for the better, but there is still more to be done, thousands and millions of unreached ones are still plaguing in abject poverty and dying daily. PfD still needs more support to be able to continue doing the good work and be able to reach the less privileged.
---
Throughout all of December we will be sharing stories from our staff, board, partners, and others from around the globe. We can't wait to share all of the hopeful, engaging, and positive stories from our work. We will be using the hashtag #IamPfD on Facebook, Twitter and LinkedIn.


Be sure to share the posts that you find engaging and inspiring with friends and family and don't forget to donate and take an #unselfie of you making a donation and share it with us and use the #IamPfD for a chance to win prizes from PfD.