What Do You Know About Malaria?
What are the signs or symptoms of malaria? How do people get malaria? How do people prevent malaria? These questions were recently asked as part of a Knowledge, Attitude, and Practice survey conducted by PFD in the Kratie and Koh Kong provinces of Cambodia. 
Our goal: to determine what the malaria affected populations knew about the mosquito-borne infectious disease. PFD is now using the data to get a better picture of the needs of the mobile and migrant populations (MMP) and, as a result, implementing better targeted programs.
So what did we find?
97% of the workers have heard of malaria.
When asked about the signs and symptoms that make them suspect malaria, 84% mentioned chills, 21.7% headache, almost 20% fever and about 16% sweating.
8.4% of respondents didn't know signs or symptoms related to malaria.
92% of workers have at least one type of mosquito net (bed net or hammock net), but only half of those nets are insecticide treated nets (ITN).
An estimated 69% of the workers slept under a treated net the previous night: 23% slept under an ITN bed net or hammock net and 46% under a long lasting insecticide-treated net (LLIN).
Only 39% of workers own either an ITN or an LLIN and slept under it the previous night.
Next steps
Currently, PFD is working to eliminate malaria in Cambodia with funding from the Global Fund to Fight AIDS, Tuberculosis and Malaria. An integral part of PFD's program is distributing insecticide-treated bed nets (ITNs). According to the CDC, ITNs have been shown to be very effective in the fight against malaria. Since the use of nets reduce the number of mosquitos and the mosquitos' lifespan, if used by over 50 percent of a community, the nets will have a positive effect, helping to even protect those community members without nets. Since 2006, PFD has distributed nets which cover over 120,000 people in the Kratie and Koh Kong provinces in Cambodia.
To address the areas of weakness identified through the survey, our current programs will be modified to help increase ownership of bed nets and providing on-site programs to treat nets with insecticide. PFD is committed to continually monitoring and evaluating the local needs of the community along with the effectiveness of our interventions, and through this survey, can be at the forefront of developing new intervention strategies tailored to specific populations.
In recent years, PFD has focused on the mobile and migrant populations (MMP) who are at higher risk for malaria from their work in forest areas. Based on the 2008 census, it was estimated that 40,000 to 70,000 people migrated to malaria villages or areas, with about 25% of them non-immune to malaria (Ref MMP report 2010). Targeting MMPs is critical to stopping the spread of malaria, as the recent emergence and spread of antimalarial resistant parasites has been linked to population movement between non-malaria areas to malaria endemic areas.
PFD Recommendations for Cambodia Malaria Program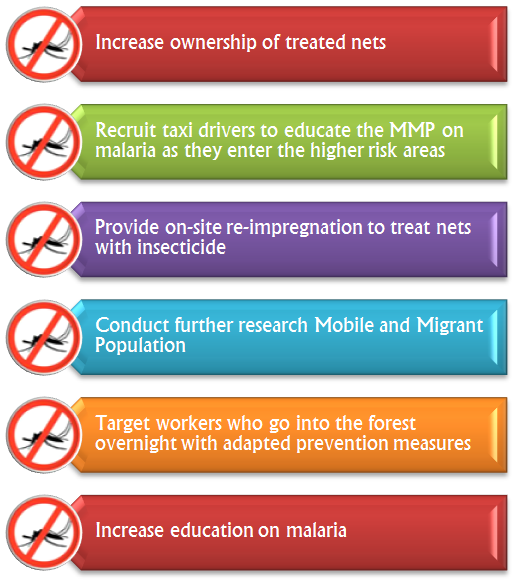 Apart from the provision of bed nets, PFD also works to educate the population: From 2012 to 2014 PFD reached over 300,000 people through community based malaria health education, 57,132 school children through school-based malaria prevention interventions, and provided training for over 2000 village health volunteers. Additionally, the survey reported that in 2013 80% of individuals correctly answered malaria related questions during community quiz events and 95% of the children who participated in the school based programs passed along the information on malaria prevention to their family, friends, or other community members through various activities.
Read more about PFD, our work to fight Malaria in Cambodia, and our other health projects.