#GivingTuesday
In 2012, the global movement, #GivingTuesday began on the Tuesday following Thanksgiving.  With the kick-off of the Holiday Season, there are consumerism based days, Black Friday and Cyber Monday, that fail to represent the true holiday spirit — 'tis the season for giving back!   Therefore, #GivingTuesday began to re-ignite the true Holiday Cheer, spread happiness, and promote a global, positive movement of donating to charities.
By supporting #GivingTuesday, and the participating organizations and nonprofits, you are giving hope, giving life, giving an education, giving opportunities, and giving the resources necessary to promote a just and peaceful world.
However, giving doesn't require a significant amount of money.  Please, give your time volunteering within local communities — or take a moment out of your day to raise a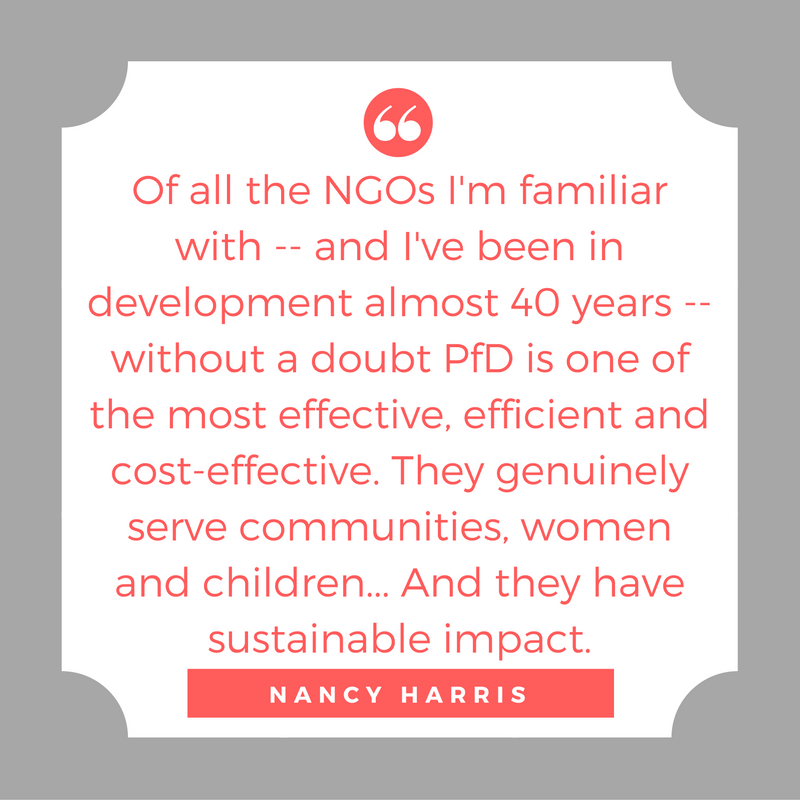 wareness of the important causes PfD and other nonprofits represent through social media or other platforms.  If possible, give what you can, even if it is just the amount of money you would spend on a cup of coffee, a breakfast or dinner. The impact of your contribution will be DOUBLED thanks to the generosity of PfD's dedicated supporters. Read the Great Nonprofit reviews to learn why PfD is their charity of choice.
By donating to Partners for Development, you are contributing to the Anne Johnson Memorial Scholarship Fund which sends girls to school in Nigeria.  It costs $250 to pay her school fees for an entire year.  Every dollar counts to make it possible for a girl to be able to afford her basic human right to an education.  Therefore, I urge you to contribute to PfD or a charity of your choice.  No matter the amount, your gift brightens the lives of those we serve – and brings a little extra cheer to your holiday season knowing that you've made a difference.  Learn more about the difference you will make with Lucy's experience as a scholarship recipient.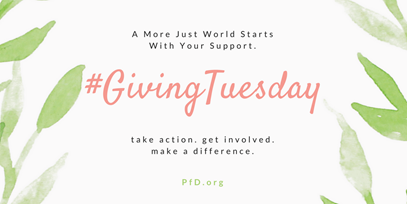 Did you hear the good news? Partners for Development (PfD) has earned a spot on the 2016 Top Rated List by GreatNonprofits, a platform for community-sourced stories related to philanthropic work. Our community has shared their inspiring stories about our work and we hope that will continue. Didn't get a chance to rate PfD on GreatNonprofits – it's not too late, just click here.
Thanks to our supporters, donors and the clients that we serve who have recognized the good work that PfD has done. We share this recognition with our local partners in Nigeria, Benin, and Cambodia whose dedication and tireless effort to improve and save lives made this possible.
PfD gives the greatest importance to the role of partners in every aspect of our work. We are deeply committed to involving local counterparts in assessing needs, designing programs, implementing activities and learning from the communities we jointly serve. PfD's partner-oriented approach directs us to work with and harness the resources of the international community to meet the needs of vulnerable populations.  To learn more about our impact around the globe visit us at: https://pfd.org/our-impact/.   We pledge to continue our efforts and to extend our reach in an effort to make this world a better place, one community at a time.
Working with and through small businesses1 is both effective and in line the Partners for Development's (PfD) mission of working in partnership with local and international groups to improve quality of life for vulnerable people in underserved communities.  Over the years, PfD has found that working with small businesses is an incredibly cost effective way to implement, monitor and manage programs that energizes the local economy. By creating small business partnerships and employing local staff and partners, PfD helps empower communities and facilitate inclusion. The use of local small businesses promotes the idea that local challenges should be solved through local solutions.
PfD has demonstrated commitment to these ideals since our founding by working with small businesses both in the US and in countries where we implement programs.
Local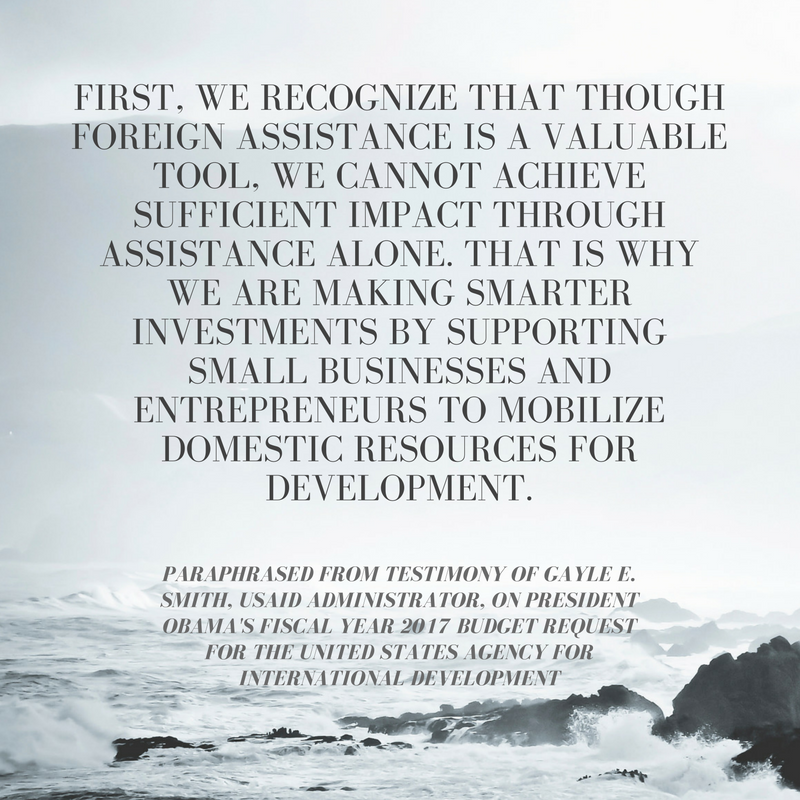 small businesses are the backbone of the economy; they contribute substantially to GDP growth and create job opportunities, which is particularly important for developing countries. Working with and contracting small businesses helps them develop and ultimately contribute to overall economic growth of a country. Over the years, development goals have shifted towards local ownership; rather than simply solving the issue at hand, development organizations aim to capacitate local communities to maintain solutions once a project is over, which enables them to solve local problems without international aid in the future. The use of small business represents one simple way to involve the local community and facilitate ownership and sustainability.
PfD promotes the use of small businesses both in the US and abroad by working with them to support certain project components or fulfill basic needs that could otherwise have been filled by large businesses. PfD's use of small businesses in the place of larger or international ones promotes income generation and increases employment opportunities for those who need it. PfD strives to promote sustainable solutions through local partnerships; PfD works alongside local communities to fulfill their needs, using a bottom-up approach to empower people in underserved communities. The use of small business to support program functions reflects this value of local solutions; by utilizing available, local resources and businesses, PfD honors their mission in every way possible.
Local Solutions. Sustainable Outcomes.
The international development community as a whole has recently adopted similar ideals as it pertains to international development program contracting. Many donor agencies are awarding more contracts and funding to small businesses; certain organizations have even adopted reform policies that set aside a certain number of contracts or a certain amount of funds for small businesses in particular. There has been a recent push in the field of international development, led in part by the Small Business Association of International Companies (SBAIC), to include more small businesses in development work across the globe.
Small business accounts for almost 50% of employment in developing countries (UK Department for International Development, 2015). This means that their growth is imperative in order to increase employment rates and further economic development. PfD recognizes the importance of the role of small businesses in development. For example, in Nigeria, PfD contracts different small businesses to support program monitoring in the communities. Similarly, PfD utilizes small business as often as possible to support headquarter office functions; small businesses are hired for services such as web design, accounting and IT, as well as internet and telephone wiring. PfD is consistent in their use of small businesses in every region to support sustainable economic growth through the use of small business in as many capacities as possible.
The international development community can and should recognize the essential nature of small businesses both in the US and abroad.  The international development community has made strides in terms of understanding the importance of working with small local businesses but there is still a long way to go in maximizing the potential of small, local businesses.
1Small businesses are generally defined by their size, measured in number of employees or annual receipts. The size standards used to determine whether or not a business qualifies as small vary greatly depending on the industry. There are also different standards or norms depending on the location of a small business. In general, businesses that employ less than 500 people are considered small, but to those working in rural areas in the context of a developing economy, 500 employees may seem incredibly large.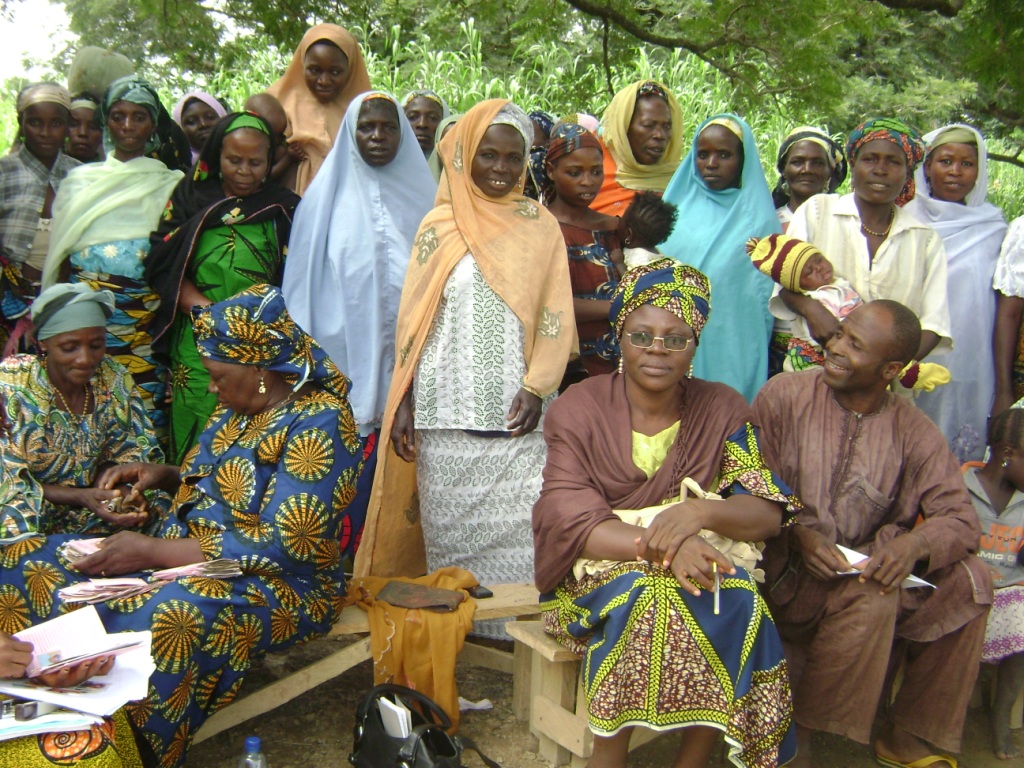 The increasing proliferation of cellphones in Africa brings an opportunity to leap-frog off technological development to innovative mobile interventions.  Our case study takes place in Nigeria, with a cellphone proliferation rate of 89%.  MHealth is an innovative approach towards the integration of technology and health interventions.  However, mHealth is limited for those without cell phone access; generally the most vulnerable like women in rural communities or the illiterate (40.4% of the population over the age of 15 cannot read and write in Nigeria[1]).  Therefore, Partners for Development and Dr. Valerie L. Flax, with her team of researchers from the University of North Carolina, provided groups of women with cellphones to research their effectiveness in disseminating and encouraging vulnerable populations to adhere to recommended health practices.
The researchers targeted women-microcredit clients.  These women had received small loans and were already integrated into a group dynamic with other microcredit clients where peer support and accountability was highly valued for microfinance program success. PfD's intervention utilized the pre-existing small groups of women-microcredit clients for the purpose of our health promotion program; by linking social networks together  with health information via text and voice messaging we are able to encourage communication and behavior change.   The research found that integrating group counseling and cell phone messaging increased the likelihood of women to adhere to breastfeeding recommendations.
Dr. Flax performed a second round of research to analyze the feasibility and acceptability of group cellphones used to promote optimal breastfeeding practices for women's microcredit groups within Nigeria.  During this research, in each microcredit group, one woman was provided a low-cost cell-phone that received text/voice messages weekly on breastfeeding information.  The woman responsible for the cell phone was asked to disseminate the information to her group within a week
Key findings from the target group (195 microcredit clients whose babies were born during intervention) include:
68% of the time, breastfeeding messages were usually shared in the small groups rather than individually
44% of groups met at least once a week to discuss the breastfeeding messages
59% of the small groups performed songs and dramas about the breastfeeding messages every week
58% of women trusted the messages and were motivated to try recommended practices
64% said the group phone worked well or very well
35% felt they had the support to carry out the breastfeeding recommendations
With regards to the feasibility and acceptability of providing a single cell phone to a group, focus group discussions showed unanimous neutral or positive feelings towards the single cell phone holder. Reports also show the information was shared promptly.  Moreover, women continued to share what they learned about breastfeeding to their family and friends.  In congruence with prior research, women in the target group who met at least once a week were more likely to exclusive breastfeed in comparison to women who never met with their group.  As we can see, utilizing mobile health promotion in a group setting is a feasible, acceptable and worthwhile approach.
In conclusion, despite Nigeria's high cellphone penetration rate, women tend to have less access to cellphones and thereby mobile health promotion technology. Therefore, this tactic of targeting women who already have group dynamics formed within their microcredit program was effective in promoting optimal breastfeeding practices through the use of a group cell phone.  This research is groundbreaking in exemplifying the feasibility of integrating mobile health technology into groups of the most vulnerable peoples.  
At PfD, we are dedicated to delivering local solutions with sustainable outcomes.  As seen in this exemplified program, women and children are at the forefront of our programming.   Learn more about PfD's work promoting lifesaving and cost-effective recommended maternal health practices in our blog, https://pfd.org/building-on-the-microcredit-platform-for-better-child-health/. And read more about our work in Nigeria with maternal health here https://pfd.org/the-question-of-quality-comprehensive-respectful-and-rights-based-maternal-health/
Flax V.L., Negerie M., Ibrahim A.U., Leatherman S., Daza E.J. & Bentley M.E. (2014) Integrating group counseling, cell phone messaging, and participant-generated songs and dramas into a microcredit program increases Nigerian women's adherence to international breastfeeding recommendations. The Journal of Nutrition 144, 1120-1124
[1] https://www.cia.gov/library/publications/the-world-factbook/fields/2103.html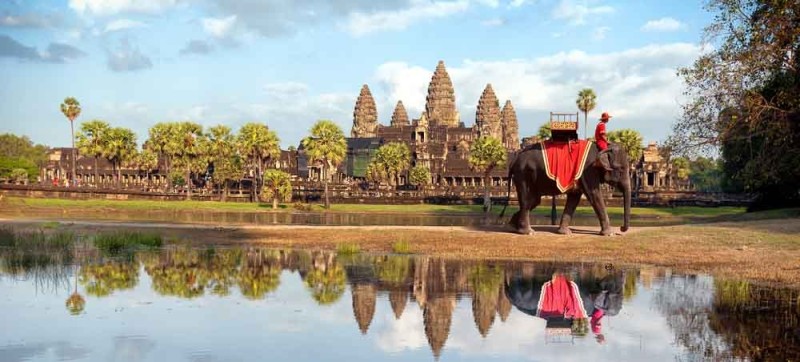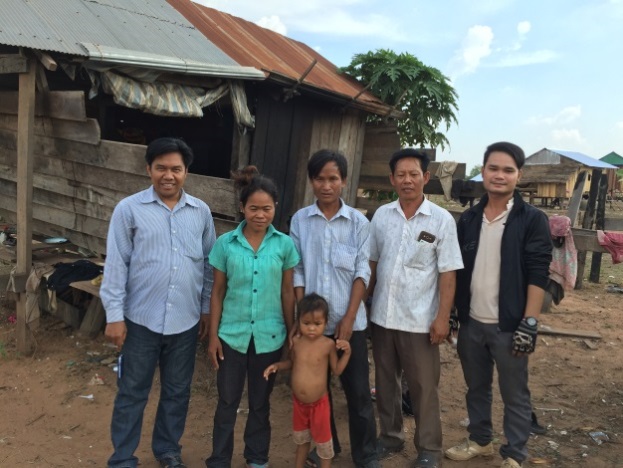 In Cambodia, there have been great gains in reducing the morbidity and fatality of malaria. In 2015 there were only 10 reported deaths from malaria. Over 80% of cases occurred amongst people age 15-49. Although this age group is often less vulnerable, they also often comprise the primary breadwinners of families and thus each case of malaria means a loss of precious income through payment for treatment or lost labor time. In addition, drug-resistant strains of the disease have been on the rise in the border regions of the country. This can be caused by exposure to poor quality medicine, or more commonly failure to comply with medication directions. Mobile and migrant workers are particularly at risk because they work in the wooded border regions of Cambodia with high incidence, they often come from areas with less incidence of malaria, and they often work through the night.
PfD is working with the Global Fund in Kratie province to create an Early Warning System which will create a database tracking the emergence of drug-resistant cases. In order to do this, a network of PfD staff, volunteers, and partners have to draw and test blood samples from patients, and submit them for verification. It is this network that is the heart of PfD's Regional Artemisinin Project.
Kratie is among the poorest provinces in Cambodia, so those who contract malaria are sometimes unable to afford a visit to a private clinic. However, if they do choose the private clinic route, they will have the pleasure of seeing Miss Ry Monika. At her clinic, she will administer medicine and take a blood sample for a PfD staff member to collect. At this private clinic, the policy does not include a follow up with the patients. Reaching patients after they leave can be a key challenge, as many do not have phones or adequate service.

If a patient makes their way to the public clinic, Mr. Ra Sarvuth will take a blood sample and request the patient returns in 2 weeks. During this time, the blood sample has been collected by PfD staff and analyzed. Mr. Sarvuth works diligently to contact those who do not return.
With the help of trained Volunteer Malaria Workers (VMWs), all who need assistance can be treated and tested. Bin Soth has been a VMW since 2004 and has worked diligently with PfD on other malaria control programs like net distribution and education campaigns. He has been trained by PfD on health education and behavior change communication (BCC) and has also been trained and provided medicines by the national program. Bin Soth also collects blood samples which are collected by PfD staff. If the malaria is a serious case or doesn't improve then he refers the patient on to further care at a hospital or health center. Within the village that Bin Soth works and lives, he covers about 75 families over an area of 2-3km.
Tin Tak has been a VMW since 2004 in the village of Batheuy, where her coverage area is about 3km. Like Bin Soth, Tin Tak takes blood samples for PfD to collect and she refers more complex cases and pregnant women on to hospitals and health clinics. However, the nearest health center is 23km away and the road in very poor condition. Therefore, the work she does in her community is vital to those who cannot make that trip.
Our VMWs are passionate about serving their friends, family and communities. They are proud to make every PfD meeting to keep current on our malaria prevention and control programs. Their service has been invaluable to beneficiaries like Sreang Thavy. Sreang Thavy has repeatedly contracted malaria due to his work in the nearby forest. When we met Sreang, he was sick for the 3rd time in just one year. After returning home from the forest, he was feeling very sick with a fever. At that point he knew he had to go to the local health post where they took a blood sample. It takes a while to recover enough strength to return to working in the forest, and this time can be economically damaging as he is unable to work and his family of 7 has no other source of income.
Working tirelessly to prevent malaria in their community is PfD's local staff based in Kratie province, such as Kheng Phyreth and Im Ratana. They map beneficiaries, collect samples from the clinics and VMWs, and maintain relationships with our partners. They often work long hours, having to reach remote areas on motorcycle. They are key members of the PfD team, working at the local level to achieve sustainable outcomes.
June 27th is International Pineapple Day! It may not be a major international holiday, but we at PfD think there's still a lot to celebrate. Our Pineapple Process for Export (PINEX) project in Benin is strengthening the pineapple value chain – meaning that we're working to increase trade, strengthen markets, and improve the livelihoods of the people in Benin who are producing and processing pineapples.
Along the way we've learned a lot about this tasty fruit! So, in honor of International Pineapple Day, PfD presents:
5 things you didn't know about pineapples!
#1  Okay, now this one surprises people every time. Did you know that pineapples actually don't grow on trees? Nope. They grow out of the ground on a short, stocky stem. Don't believe us? A picture is worth a thousand words: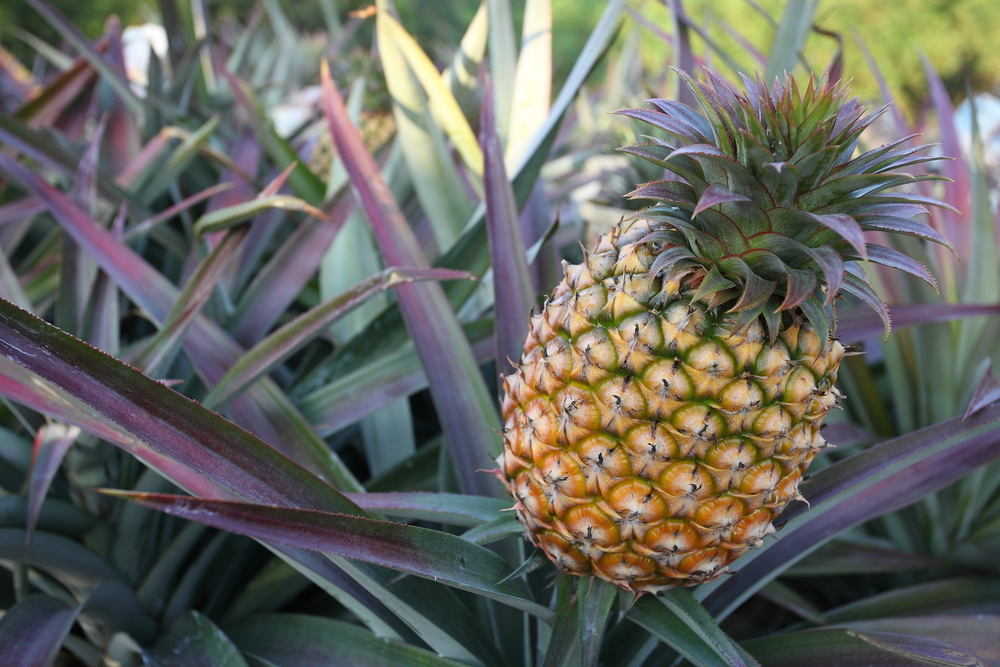 #2  There are a LOT of different varieties of pineapples. In Benin they primarily grow Sugarloaf and Smooth Cayenne. Sugarloaf pineapples aren't yellow like we're used to in the United States or in Europe – they have a greenish peel, and the fruit is white. They're also extra sweet. Beninese exporters actually require that producers use a chemical that alters the color of the fruit, or European customers won't want them. Building awareness and marketing that pineapples don't have to be yellow to be delicious is part of the PINEX project.
#3   The pineapples you eat don't all come from Hawaii. The US produced about 175,000 metric tons of pineapples in 2011, and in the same year imported over 815,000 metric tons. Over 85% of these imports came from Costa Rica. Globally, in addition to Costa Rica, the countries that have averaged the highest production of pineapples over the last ten years are Thailand, the Philippines, Brazil, and India.
#4  "Pineapple" is a particularly great word in French (the official language of Benin): it's "Anana!" Okay, if you took French in high school you might       have learned this one, but it's too fun to pass up.
#5  Pineapples have a particularly long growing cycle – for the fruit to be matured and ready takes about 18 months. Through PINEX, PfD is working with farmers to shorten the average cultivation cycle with improved irrigation and rotating planting so that they always have pineapples to sell.
(Bonus #6)  This is how pineapples are currently brought from Benin to Nigeria! PfD is working to build a cold storage facility and market infrastructure that will improve the efficiency of this process, and result in less waste.
The current literacy rate for females in Nigeria is approximately 20% lower than it is for males1. Girls also spend an average of eight years in school throughout their lifetime in comparison to girls in the United States whom spend an average of 17 years. With secondary education in Nigeria costing around $500.00 annually, many young girls are unable to advance beyond elementary education without additional support. 70% of Nigerians1 also live below the poverty line and it may be quite difficult to use excess funds towards furthering their child's education. With the help of your donation to the Scholarship Fund, PfD can significantly reduce the financial strain on families in order to continue to pay for education for their children.
Meet Lucy, one of the newest recipients of the Anne Johnson Memorial Scholarship Fund. Lucy is 12 years old, the second of three children and ranks at the top of her class. Lucy aspires to educate other young children one day by becoming a Mathematics lecturer after her studies. She is currently studying twelve subjects and loves learning at school, reading, and mathematics. All of Lucy's textbooks for her numerous classes were provided by the Anne Johnson Memorial Scholarship Fund (AJMSF). Lucy's dreams are much more of a reality with the help of AJMSF. Lucy's mother, Mrs. Ifeoma, was so grateful to PfD for giving her daughter the opportunity to help further her education and promised to continue to encourage her daughter to do well in her studies and stay in school.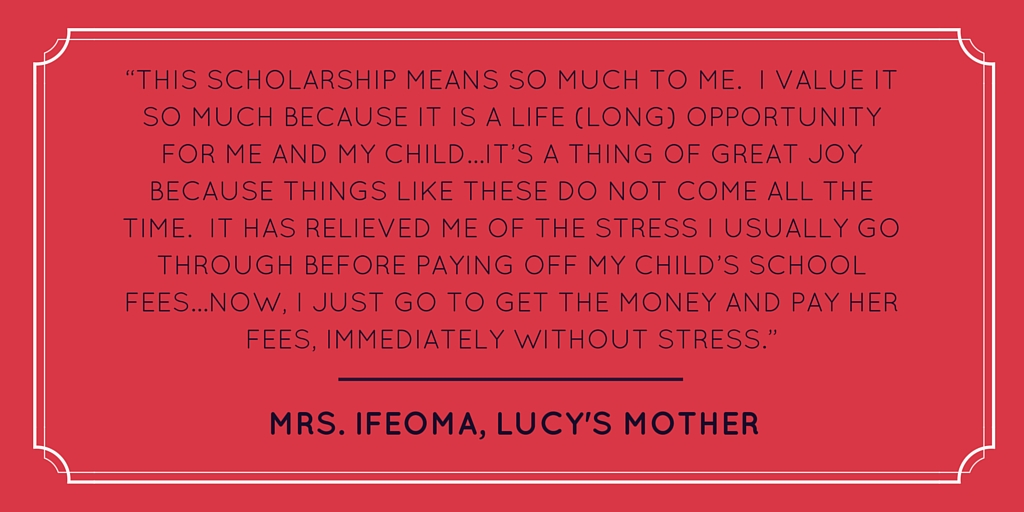 The Scholarship Fund that Lucy received was created in memorial of Anne Johnson, former PfD Country Program Director. Initially PfD, in partnership with Life Above Poverty Organization (LAPO), set a target of $20,000.00 annually to support the Scholarship endowment. However, in August 2015, less than one year after the AJMSF began, friends, family members and three institutions donated close to $30,000 in her memorial.
Since 2014, 26 Nigerian girls have been awarded scholarships from the AJSMF to support their secondary education. Each year, drawings are held to decide on the winners because there were so many girls who qualify for scholarships based on economic need. Staff members from LAPO and PfD meet with the winners a few times a year to track their successes in school since receiving the scholarship fund. Past AJMSF recipients have graduated from secondary school and will continue to receive support from PfD to further their education.
In the future, PfD and LAPO plan to give other young girls like Lucy the opportunity to help pay for secondary school and achieve their educational aspirations. To support more girls like Lucy donate $250 to the Scholarship Fund today.
Agriculture accounts for 70% of Benin's employment and 35% of its GDP, making agricultural production an area of critical development. Improving current irrigation methods can significantly increase production and processing for local farmers by enabling them to produce even during the two dry seasons, because it gives farmers the ability to artificially provide water for their land without relying on rainfall. The common irrigation methods used by farmers in Benin, especially during the two dry seasons (from November to February and during August and September), totaling six months, are gas-powered pumps and manual watering by hand. A manual irrigation system requires a large amount of labor and often results in crop wastage from improper watering. Gas powered irrigation pumps are very expensive to operate and emit a substantial amount of pollution into the air and soil. PfD hypothesized that farmers in Benin would greatly benefit from cost effective, solar based irrigation technologies that are environmentally friendly, both for the farmer and the soil.
For the GREEN Project in Benin, PfD tested solar-powered irrigation pumps to determine if they could be a cost-effective approach and nonpolluting method to improving vegetable production. Solar panels are installed in each solar irrigation pump to power the surface pump's internal electric motor. Once the motor is running, water is pumped from the pond directly onto the fields through hoses or sprinklers, or pumped into storage tanks to be used for later. The advantages of a water solar irrigation pump include:
No fuel cost
Non-polluting
Low maintenance cost
Produces water when vegetables need it most
Highly reliable and durable
Easy to operate
Easy water storage
For the GREEN Project in Benin, PfD tested solar-powered irrigation pumps to determine if they could be a cost-effective approach and nonpolluting method to improving vegetable production. The two types of solar-powered irrigation pumps tested for the pilot were GRUNDFOS and LORENTZ PS 150. Both models have been used to power irrigation systems in northern states of Benin, but neither had ever been tried in the southern region of the country, where PfD operates. PfD brought 450 farmers to six different test sites throughout the southern regions to participate in the pilot.
Results from the test exhibited that both the GRUNDFOS pump and the LORENTZ PS 150 pump can be used effectively in southern Benin and would substantially reduce irrigation cost and pollution. Both pumps are also guaranteed for 25 years, which could potentially save farmers $63,000 or more during that time period. The German Cooperative Development Agency has also agreed to provide a reduction of up to 40% of the initial installation cost to convert to solar-powered agricultural equipment for all Beninese farmers for the next five years. Several GREEN farmers expressed interest in buying the solar system and in taking advantage of the reduced price.
Shortly after attending the test pilot, farmers installed a solar irrigation system in the Semi-Podji district. The group, which used a gas-powered pump before, notes that the new solar irrigation system covers around 2.5 acres of land and has saved them over $200 per month, which is a considerable amount of money for the group. Through the GREEN Project, PfD was able to effectively show how using innovative technologies like the solar-powered irrigation pump can be used to achieve sustainable development in communities. We hope that many other farmers will transition to a solar-powered irrigation pump system to achieve the same results.
Partners for Development is always seeking support from individuals and organizations in order to improve the quality of life in developing countries. Become a Partner for Development Today! With your contribution, other innovative technologies and key activities can be implemented to make a difference in the lives of those that need it most. To make a gift please click here!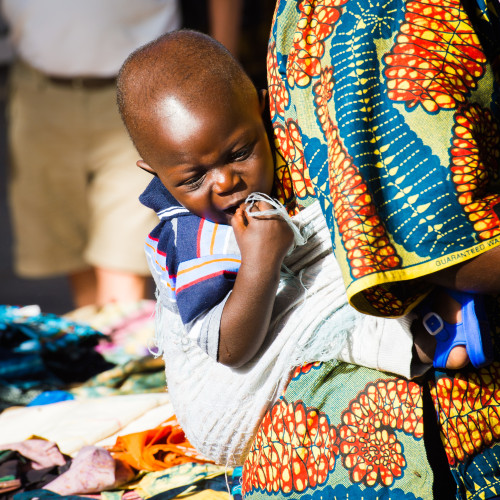 The Question of Quality: Comprehensive, Respectful, and Rights-Based Maternal Health
Imagine that you're a young, pregnant woman. Imagine that you have to walk five miles to even get to the doctor. You arrive at the clinic, only to sit in a small, hot, overcrowded waiting room for four or more hours. When you finally do get to see a nurse, she mocks your accent, or your clothes. She scolds you for not coming in sooner, and makes you feel ashamed. Your understanding was that it was a free exam, but then you are asked to go to the pharmacy to buy gloves for the nurse. The nurse pricks your finger and says she's testing you for a disease. You think you've heard of this disease, and you heard it kills people. You're scared of it, but she doesn't say more – doesn't say if she thinks you might have it or if it will hurt your baby. You're given a confusing mix of pills that are bitter tasting, and told that the clinic is out of some. The nurse says you should come back next week to get these, and that you should come back for another exam in 2 months.
Would you return to the health facility?
For many women in the developing world, this example closely resembles their experience. Each year, over 300,000 women die in pregnancy and childbirth, 99 percent of them in the developing world. For every woman who dies of pregnancy-related complications, 20 to 30 more suffer from related on-going conditions which may permanently affect their normal functioning –additional 6 to 9 million women per year. Maternal health advocates, researchers, and providers are committed to ending human rights abuses and promoting skilled and dignified care. Together, we can make comprehensive, respectful, and rights-based maternal health care available to all.
Maternal mortality and morbidity are the tragic result of a myriad of compounding factors. 75% of maternal deaths are caused by severe bleeding, infections, high blood pressure during pregnancy, complications from delivery, and unsafe abortion. Other deaths are often caused by or associated with other diseases such as malaria or AIDS. Delivering at a medical facility with a skilled health care worker present is critical should these complications arise, but often they can be avoided altogether if a woman attends antenatal care visits. However, only 40% of women in low-income countries complete the recommended number of antenatal care visits.
As the example above illustrates, accessing care for some women can not only be difficult, it can be intimidating, humiliating, and scary. Unsurprisingly, receiving poor care makes women less likely seek health care out in the future. This is why it's crucial to not only provide access (by making healthcare close and affordable), to educate women, their families, and their communities about the importance of maternal health care, but also to work with health clinics and health workers to ensure quality of care – the respectful, comprehensive, and competent care that every human deserves.
At PfD, we deliver integrated programs that address the nuanced reality on the ground. In Nigeria, we not only provide education to women, their families, and communities and engage with key community leaders to change behavior. We also work with health care providers to ensure that they have the knowledge and resources to provide quality care. PfD worked to deliver improved maternal, newborn, and child health services through the training and mentoring of health care personnel, including nurses and midwives, community health extension workers, and community based healthcare volunteers. PfD trained nurses and midwives on quality of care and trained health care workers on Balanced Counseling Strategy which improves client-provider interactions and client satisfaction. The results of this project speak for themselves – In the first year of the project, 15,562 women attended at least one session of antenatal care during pregnancy – by the end of the project over 44,000 did. This represents an increase of over 280%.
Through the Scale-up of Prevention of Mother-to-Child Transmission and Pediatric HIV/AIDS services in Delta State, Nigeria, PfD built the capacity of health facilities, training health workers to provide quality HIV testing and counseling, integrating Prevention of Mother-to-Child Transmission and HIV care into antenatal care services, and upgrading and equipping a laboratory to service as a comprehensive treatment hub. PfD trained health care workers and pregnant women received HIV testing and counseling. PfD also facilitated testing of pregnant women for HIV.
PfD is committed to the idea that no woman should be in danger because she gives birth, which is why we're joining the global community in calling on the UN Secretary General to recognize April 11th as the International Day for Maternal Health and Rights. Together with the UN community we can make comprehensive, respectful, and rights-based maternal health care available to all. To sign the petition,click here. Follow the discussion at #IntlMHDay and through PfD's social media updates. To learn more about our work to promote maternal health and healthy communities, click here.
April 6th, 2016, by Katie Baczewski, PfD Program Officer